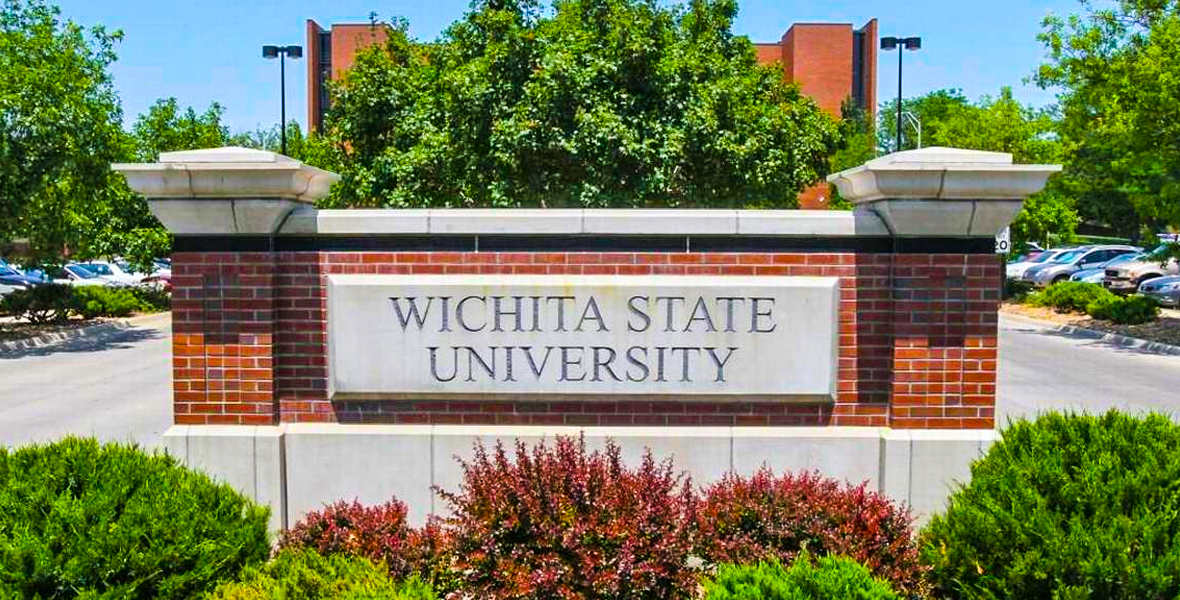 Main Features:
Its one of the top level / high standard State University founded in 1895.
WSU is one of three research institutions in the state of Kansas, along with Kansas State University(KSU) and the University of  Kansas (KU).
100's of programs including associate, bachelors, masters, and doctoral degrees.
Tuition fee :-
UG / Bachelor:$ 12600 to $14750 and PG / Master: $20226
Strength of current students 14898.
Application fee: $ 80 to $115 including banking charges
Intakes & Deadlines:
   January  (Deadline 7th Nov.)  , May (Deadline 24th Mar)  & August (Deadline 7th June)
Bachelor's Degrees
Accounting
Business Administration
Economics
Entrepreneurship
Finance
HRM
International Business
Management
Management Information Systems
Marketing
Aerospace Engineering
Bioengineering
Computer Engineering
Computer Science
Electrical Engineering
Engineering Technology
Industrial Engineering
Engineering for manufacture
Mechanical Engineering
Art Education
Art History
Graphic Design
Theatre
Aging Studies
Audiology
Communication Sciences
Dental Hygiene
Health Science
Medical Laboratory Sciences
Nursing
Anthropology
Biological Sciences
Chemistry
Criminal Justice
Earth & Environmental Sciences
English
Forensic Science
Geology
History
International Studies
Mathematics
Physics
Philosophy
Political Sciences
Pre-law
Pre-med
Psychology
Public Administration
Social Work
Sociology
Women Studies
Education & Sports Management.
Masters Degrees:
Accounting
Accounting Information Systems
Taxation
Economics, Economic Analysis, Financial Economics, International Economic
Executive MBA, MBA (Entrepreneurship & Innovation, Finance
Healthcare Administration
Marketing
Technology & Operations Management
Aerospace Engineering (Aerodynamics & Fluid Dynamics, Flight Dynamics & Control, Multidisciplinary Analysis & Design, Structures & Solid Mechanics)
Computer Networking, Computer Science
Electrical Engineering (Communications Systems & Signal Processing, Computer Networking & Distributed Systems, Control Systems, Databases, Power Systems, Programming Languages & Compilers)
Engineering Management, Industrial Engineering (Engineering Systems, Ergonomics/Human Factors, Manufacturing Systems Engineering), Mechanical Engineering (Energy & Thermal Fluid Sciences, Materials Science & Engineering, Robotics & Control)
Studio Art(Ceramics, Painting/Drawing, Printmaking, Sculpture)
Aging Studies
Communication Sciences & Disorders (Speech Language Pathology)
Nursing (Midwifery)
Nursing/MBA Dual
Physician Assistant
Anthropology
Biological Sciences (Cell Biology, Endocrine Biology, Environmental Biology, Molecular Biology, Reproductive Biology)
Communications
Creative Writing
Criminal Justice
Earth Environmental & Physical Sciences
English
Ethnic Studies
General Studies
Gerontology
History (European History, Public History. US History)
Counseling
Educational Psychology
Educational Leadership
Liberal Studies
Mathematics
Public Administration (Management, Financial Management & Policy Analysis)
Social Work
Sociology
Spanish
Special Education
Exercise Science & Sport Management.