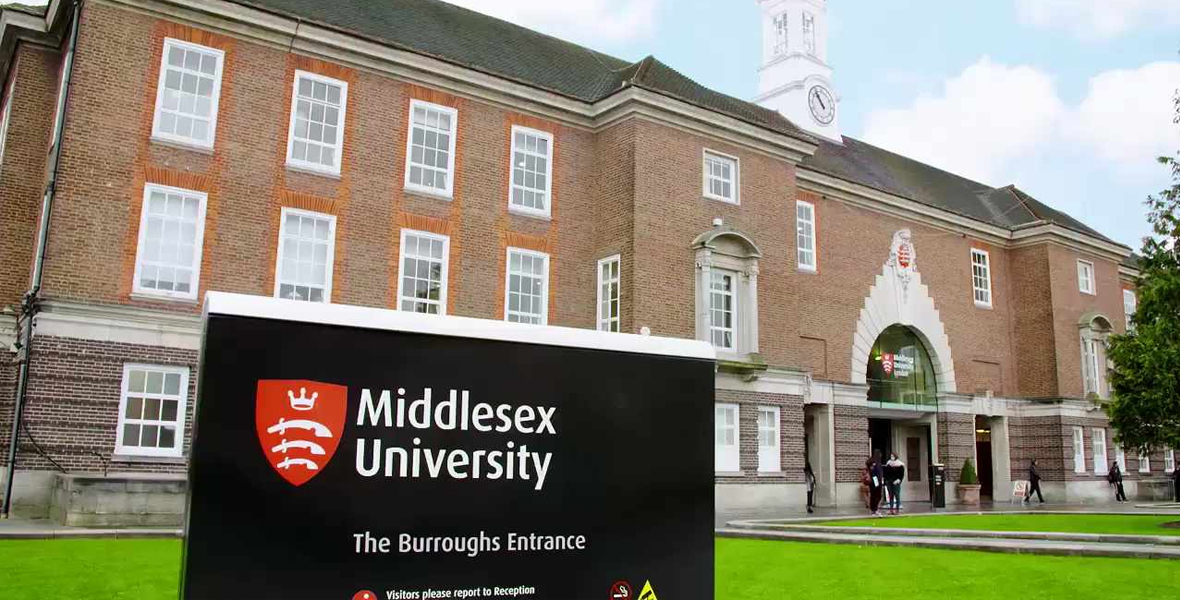 Funded University (Highly Trusted)
Established in 1973 and gained university status in 1992
Middlesex University has been awarded "Queens's Anniversary Prize" three times for its International work
Overall satisfaction rating from the "National Student Survey" is 79% in 2010/11
20 hrs work allowed & full time during summer and winter vacations
Strength of current students 23000 +
Minimum 60% Marks of Bachelor Degree or minimum 75% in HSSC or less than 75% in HSSC plus International
Foundation Program or minimum 3 subjects in A-Levels with 5 subjects including Math & English at minimum
grade C in O-Level
Bachelor degree Requirement;
0 overall with no component less than 5.5
Art related courses require portfolio. * Course fee: £10,400
50% advance deposit required
After completion of Degree: Continue studies for master Degree or apply for work permit or return to Pakistan
Master degree Requirement
Art related courses require portfolio.
* For MBA satisfactory work experience.
* IELTS 5 overall with no component less than 6.0.
* Course fee: £10,600-£ 11, 700 MBA: £ 13,500
* 50% advance deposit required
* After completion of Master Degree: Continue study for PhD. or apply for work permit or return Pakistan.
60% Marks in each year of four years relevant degree.
Pre-Sessional Course for students lacking in IELTS:
Overall Score less than 1.0 of required level:
9 Week: Jul to Sep or Oct to Jan, Fee: 2170, deposit required: £400
Overall Score less than 0.5 of required level: 5 week: Aug-Sep or Nov-Jan, Fee: £ 1210, deposit required: £ 200
Courses/Programs offered to FA, FSC, I.COM, D.COM, ICS, A-levels, DAE, BA,
BBA (2Years ), BSC (2Years) , B.COM (2Years) & BCS (2Years) Qualification Holders.
September Session:
Accounting & Finance
Animation
Banking & Finance
Biomedical Science Business Economics Computer Science
Business Management (Finance, Marketing, Human Resource Management, Marketing),
Computer System engineering
Design Engineering (Digital Systems, electronics, Embedded Systems, Mechatronics)
Top-up Design Engineering (1 year programme starts in Oct)
Education Studies
Fine Arts
Tourism
Journalism
Law
Sport & Exercise
January Session:
Business Management
International Business
Business Information Technology
Courses/Programs offered to MA, MSC, MCS, MBA, M.COM, BBA (4 Years),
B.Com(4 Years), BSC(4 Years), MBBS & D-PHARMACY Qualification Holders.
September Session:
Accounting & Finance
Business & Management
Bio Medical science
Computing & IT
Digital Media
Economics
Mobile Telecommunication Engineering
HRM
Law
Psychology
Politics
Tourism & Hospitality Management
MBA
Education
Fine Arts,
Graphic Design
Software Engineering
Sustainable Environmental Management,
January Session
Financial Management
International Business Management
MBA
Marketing
Business Information System Management,
Telecommunication Engineering
International Relations